Player Ratings: Arsenal 3-1 Chelsea | Premier League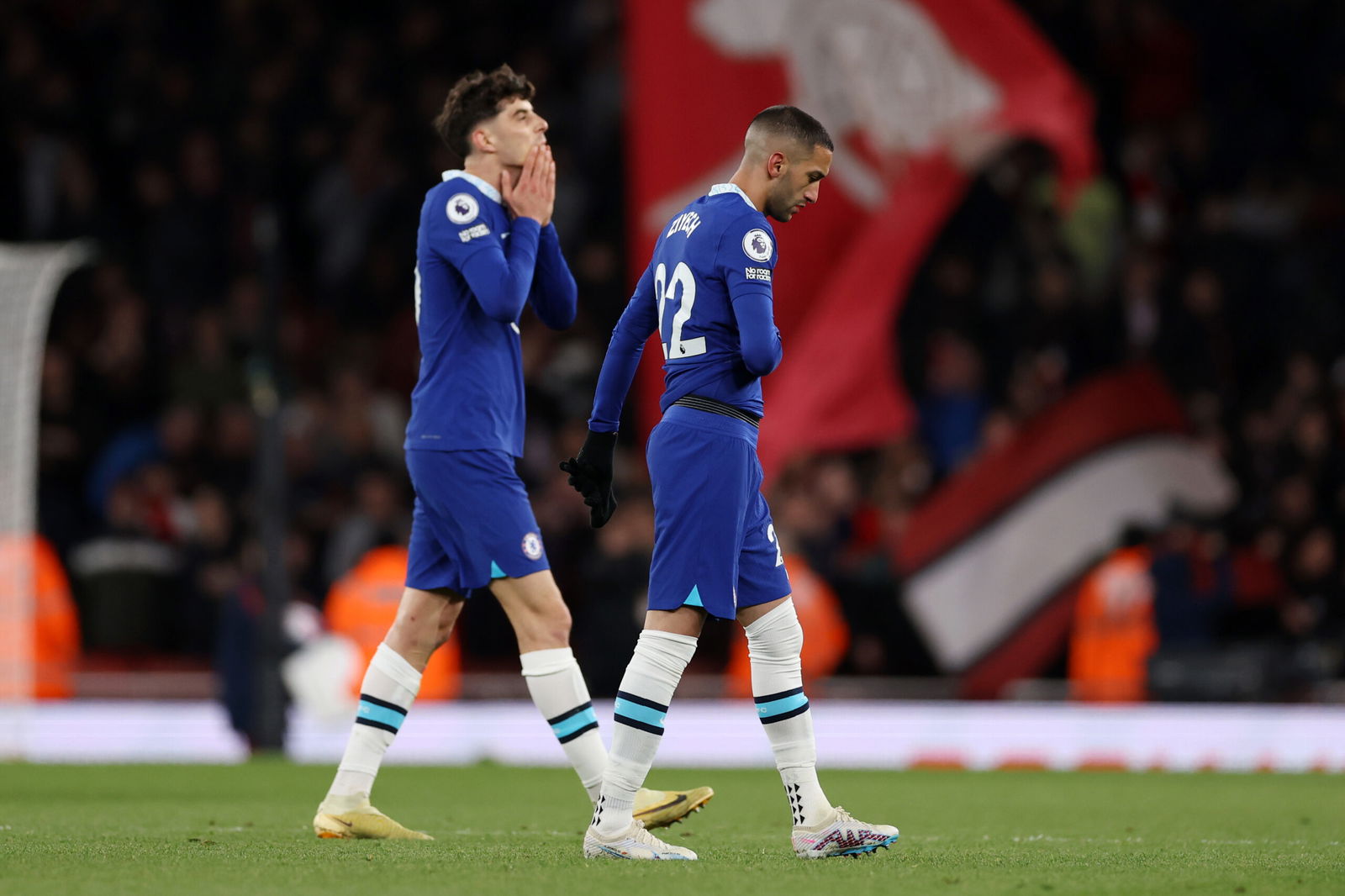 Arsenal defeated their London rivals Chelsea 3-1 in a comfortable derby victory on Tuesday night.
A Martin Odegaard double, and Gabriel Jesus strike all before the break were enough for Arsenal to resoundingly defeat a floundering Chelsea side, with Noni Madueke pulling back a consolation strike for the Blues who have now lost six in a row.
It was a frenetic start to the game in North London, with both sides looking to arrest recent dips in form. Cesar Azpilicueta nearly gifted Arsenal an early lead, when his miscued header back to Kepa Arrizabalaga allowed Granit Xhaka to nip in at close range, with Arrizabalaga doing well to block.
Waves of Arsenal attacks followed at the Emirates, before they eventually took the lead in the 17th minute, courtesy of their captain Martin Odegaard. Xhaka cut the ball across the edge of the box for his midfield partner Odegaard, who calmly curled the ball into the back of the Chelsea net via the crossbar.
Chelsea nearly responded immediately, with Aaron Ramsdale making a sprawling save to deny Ben Chiwell who had done well to burst through the Gunners' defence.
However, Arsenal continued in the ascendency and soon doubled their lead with a mirror image of the opener. After some nice interplay down the left, Xhaka whipped a cross into the box where Odegaard was on hand to poach the ball past Arrizabalaga from close range for his second of the game.
Things went from bad to worse for the Blues when Gabriel Jesus added a third Arsenal goal three minutes later. A ball into the box led to some scrappy defending from the Chelsea defenders, who could not clear their lines allowing Jesus to stab home sending the Emirates into a frenzy.
Arsenal continued to dominate in the second half, in what was in essence a big game of attack versus defence. Silva cleared off the line from a corner for the Blues, with Saka whistling an effort past the post too.
Against the run of play Chelsea managed to pull a goal back via Noni Madueke. Mateo Kovacic did well to pick out Madueke's back post run, with the young Englishman keeping his composure to slot past Ramsdale under pressure from Gabriel Magalhaes.
Chelsea pushed for a way back into the game, however Arsenal were able to manage the final proceedings effectively, holding on for a comfortable win, sending them back to the Premier League summit.
Here is how Absolute Chelsea rated the players' performance in the capital.
---
Kepa Arrizabalaga – 4/10
Kepa Arrizabalaga was a very busy boy in the Chelsea goal. He did well to keep out Xhaka early on, however some will question why he was unable to stop Odegaard's opener despite getting a glove to it.
Kepa admittedly had a lot to deal with at the Emirates, but he did not inspire much confidence in his defence, flapping at crosses and struggling to take the pressure off them during Arsenal's waves of attacks.
Yet, Kepa did make a few sharp stops, and it could have potentially been worse if not for the Spaniard's reflexes.
Cesar Azpilicueta – 4/10
A wayward header early on nearly cost his side a goal early on, and unfortunately help set the tone for a poor performance.
All of Arsenal's goals originated from moves down the Blues right hand side, with Azpilicueta struggling to hold down the movement and overloads on his patch. Azpilicueta admittedly needed more support from those around him, and undeniably tried his hardest, showing more bite and determination than others, yet it was an undeniably tough day at the office for the Blues skipper.
Wesley Fofana – 5/10 (86)
Fofana did his best to use his physicality to limit Jesus and battled with him more effectively than most.
However like the rest of Chelsea's backline, Fofana became overwhelmed at points from Arsenal's constant attacks, and could have done better in certain instances, with Jesus' goal a particularly sloppy moment.
Thiago Silva – 5/10
Silva struggled to deal with the fantastic Gabriel Jesus, who was a constant thorn in his side. It was always going to be tough for the defenders with so much pressure on them throughout, and it was lacklustre from Silva and co at times.
Still had time to show one moment of typical class, calmly clearing the ball off the line to deny Arsenal a fourth.
Ben Chilwell – 5/10
Chilwell did well to generally limit the attacks down his side of the pitch, however like his teammates he became overwhelmed at points dealing with Arsenal's movement.
Nearly scored a great goal, showing some guile to get beyond Arsenal's defence only to be denied by Ramsdale.
N'Golo Kante – 4/10
Kante was unable to have the impact on proceedings Chelsea fans have become accustomed to in recent years, but not for a lack of trying. Kante ran all over the place for his team, but was generally chasing shadows with Arsenal outfoxing the Blues in all areas.
Despite his hard work, Kante showed a rustiness in possession that did not help a team that already had their backs against the wall.
Enzo Fernandez – 4/10 (71)
Enzo Fernandez struggled to deal with Arsenal's aggressive pressing, and like the rest of his teammates, was overrun in most areas of the pitch.
Enzo needed more support from his teammates and was one of the victims of Chelsea's lack of structure and style of play.
Nevertheless, Enzo still battled hard for his team, but up against such a well-organised and insatiable Arsenal team, it was always likely to be in vain.
Mateo Kovacic – 5/10
Like the rest of his midfield colleagues, Kovacic was thoroughly overrun in the middle of the park.
Kovacic battled hard, however he struggled to leave an imprint on the game, with his team unable to find any type of cohesive structure.
Showed good vision to pick out Madueke for the goal, but an otherwise forgettable performance.
Noni Madueke – 7/10
Noni Madueke was Chelsea's only bright spark during the game. He showed moments of individual quality throughout with little reward to show for it, due to his teams lack of support and an over eagerness at points.
Madueke looked like the only player who may score for the Blues, and took his goal well under pressure from Ramsdale and Gabriel, with his movement to work the chance particularly impressive.
Pierre-Emerick Aubameyang – 3/10 (45)
Aubameyang had nine touches on his return to the Emirates, four of which were from kick offs.
Aubameyang was always going to struggle to get involved in a game where the ball is constantly in his own half, however he still did not show enough fight for his team with a lack of movement and general energy.
Hooked at the break for Havertz who is a more willing runner.
Raheem Sterling – 4/10 (71)
Sterling showed moments of sharpness in attacking positions, however they were relatively few and far between.
Another victim of Chelsea's lack of shape and structure, with his lack of understanding with Ben Chilwell particularly visible.
Sterling was poor defensively, losing Odegaard for his second strike, and failing to close down Ben White's cross for the third. A performance to forget for Sterling, who was outshone by his younger teammate Noni Madueke on the night.
Bench
Kai Havertz – 5/10 (45)
Like Aubameyang, Kai Havertz failed to offer any meaningful potency as Chelsea's focal point.
However, Havertz was a far more willing runner, and worked hard for his team out of possession to make life at least slightly more difficult for the relentless Gunners.
Conor Gallagher – 5/10 (71)
Gallagher inevitably worked his socks off for his team after coming on, and did manage to somewhat help stem the constant flow of Arsenal attacks.
Mykhailo Mudryk – 5/10 (71)
Mudryk offered an injection of pace and directness off the bench, however he was unable to inspire a comeback for his team.
Hakim Ziyech – N/A (79)
Trevoh Chalobah – N/A (86)