"Easy decision" – What Frank Lampard said in first Chelsea press conference since Caretaker Manager appointment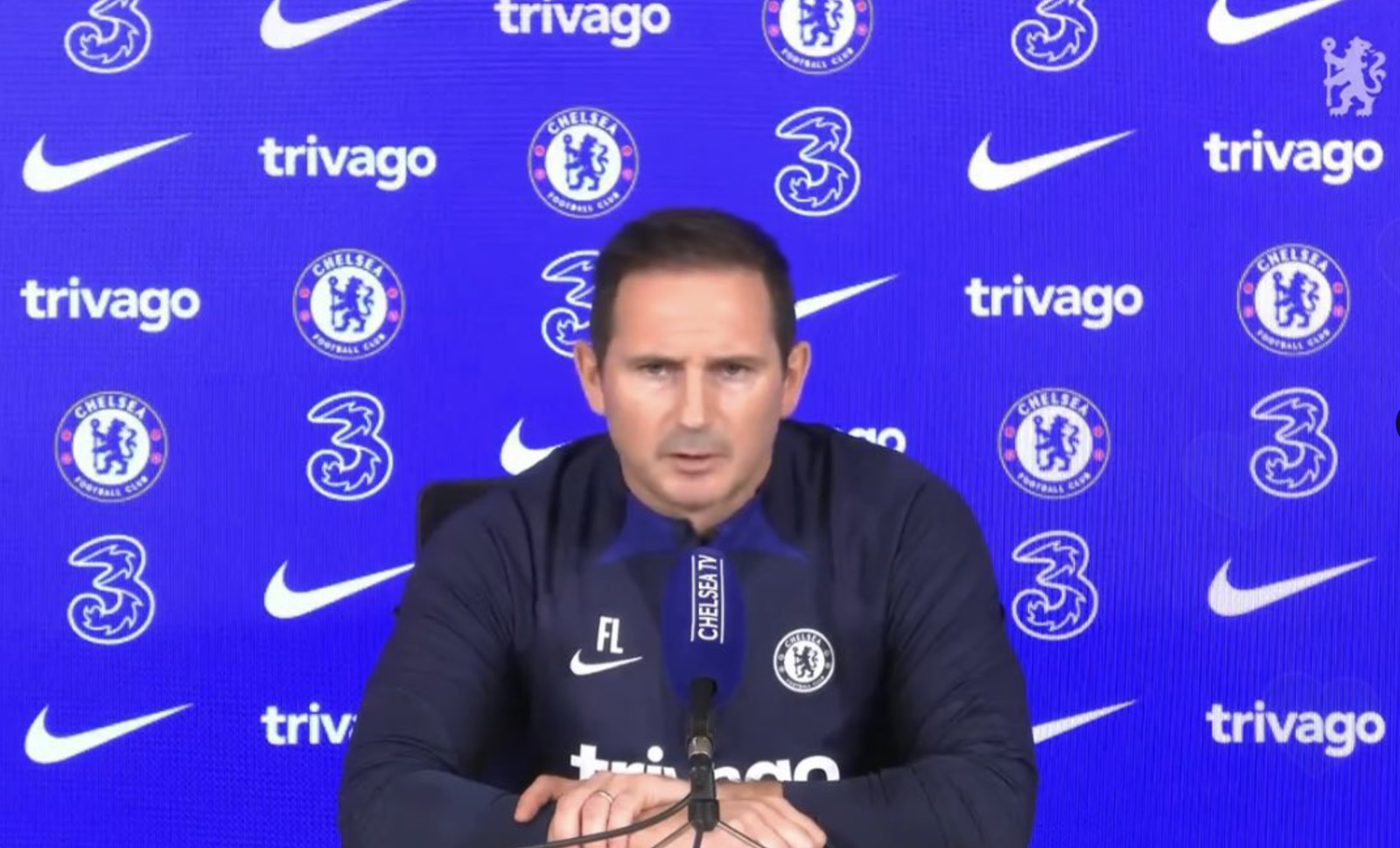 Frank Lampard addressed the media for the first time on Thursday afternoon since he was appointed as Chelsea's Caretaker Manager.
The 44-year-old has returned to Stamford Bridge until the end of the season on a caretaker basis for the final nine Premier League games and the Champions League run which sees Real Madrid await in the quarter-finals.
Assistants Ashley Cole, Joe Edwards, Chris Jones and Paul Clement will all support Lampard at Chelsea as his caretaker backroom staff.
Lampard is back just over two years on from when he was first dismissed following an 18 month spell in charge of the Blues, which saw him guide Chelsea to a top four finish in his first season.
His first game back in charge comes against Wolverhampton Wanderers on Saturday at Molineux in the Premier League.
Here's what the new Chelsea caretaker boss had to say in his first press conference back on Thursday afternoon.
---
Returning to Chelsea
"It's nice to be back. It was a pretty easy decision for me. This is my club.
"I'm delighted to get the opportunity, thankful. I'm confident in myself, a good understanding of the squad, worked with a lot of them before. I will do my upmost in this period to give them what they want."
On Caretaker Manager role
"The explanation of my role speaks for itself. I'm not getting ahead of myself. I want to do the best possible as I can. After that, we'll see what happens.
"For me, in simple terms, it won't be my decision (long-term). I understand I will be asked a lot, I've got my eyes wide open. Important thing for me is to park that and focus. I'm excited."
Chelsea squad
"I know there is a lot of talent. I'm excited to work with them and help them."
"Everyone can have a clean slate as such right now. In terms of the goalscoring, there is no genius answer. You can set up the structure, we saw that against Liverpool with chances. I'll be here to work with repetition, to get the mindset to score goals."
Mason Mount's situation at the club
"I don't know enough about it to talk about it. It would be wrong for me to delve into anything. Mason has always been a fantastic player for me, among others – Reece James, Tammy Abraham, Tomori and others.
"I know he's had a few injury problems. I know what I get from Mason. I want to see him perform on the pitch. He's a huge player for Chelsea."
Team selection ideas
"I have my idea. Credit to Bruno and Graham Potter, who I don't know that well. Good man. For whatever reason, it didn't work out."
Confirming backroom staff
"I can't right now."
Goals for Chelsea
"We want to win as many games as we can, simple answer, it's more complicated than that. Big games ahead of us, but we have to have a belief. I have a huge belief and I will tell them that today."
Managing in Champions League knockouts
"It's a chance with the two games. I'm not naive. Real Madrid is a huge club, current Champions League winners. My job is to go step by step. I'm excited to be fighting in that competition again because it's the best."
Message for fans
"I'm very thankful for the ones that are delighted. For the ones not, I will do my upmost to get a team they are proud of. I've played here for 13 years, coached here, incredible moments. From the moment, they've been a huge support."
Stepping out at Stamford Bridge again
"Really exciting. It was an amazing buzz to be back (on Tuesday). I'm proud to manage this club."
Challenge that awaits
"It's a big challenge, but aren't they all? Everything is a challenge. I'm ready to put my work into this challenge, take it day by day. I've got a clear idea, to try and impact them (the players)."
Chelsea's current position
"It's not my positions to comment on the whys and hows. It's on me to get the energy and results moving into the right direction. There's been change and transition. There's a lot of talent. It's very clear and obvious those things take time."
Thinking he'd return one day
"I didn't think I'd never be in this seat (again). I'm confident. But if I'm honest, it wasn't my thought I'd be back one day. My job is to be as good as a manager as I can be."
Back for unfinished business
"I don't see it like that. I look back with really good feeling. Now I'm here in a different period and era. Unfinished business feels Hollywood. I want to work and help as much as I can."
Affecting the group on interim basis
"I saw how he (Roberto Di Matteo) affected the group. Guus similarly. I would be stupid not to rely on things that were good, but I have to do things that are right."