"My club has suffered" – Chelsea boss makes heartwarming admission after Wembley triumph vs Man Utd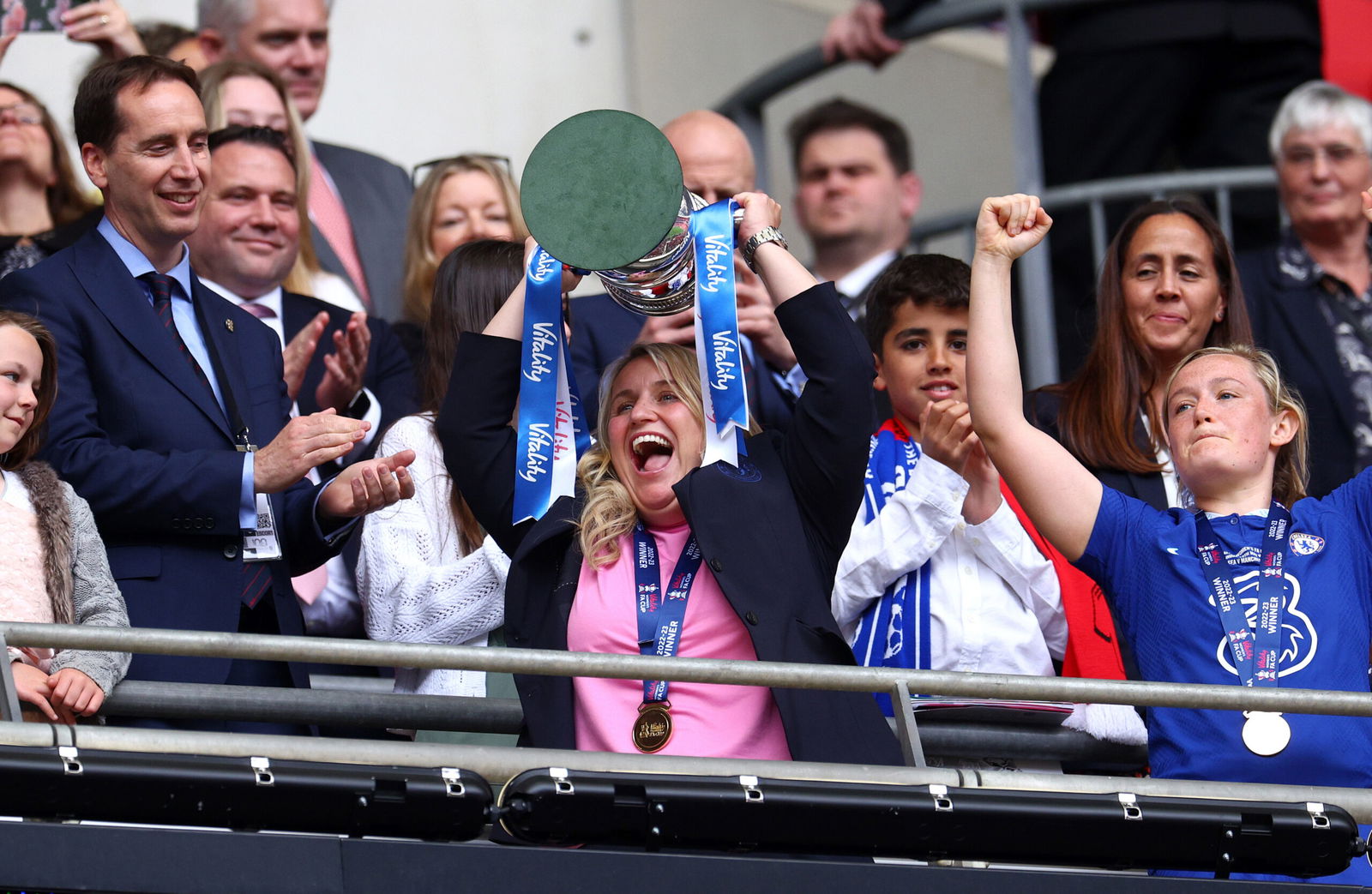 Chelsea boss Emma Hayes has dedicated their FA Cup win over Manchester United at Wembley to everyone connected with the club after a difficult year.
It's been a difficult season for the Todd Boehly and Clearlake Capital ownership in their first year at the club since taking over Chelsea in May 2022.
On the Men's side, it's been frantic off the pitch with over £600 million spent on the Chelsea first-team and two managers sacked during the season, while the Women's side have continued to strive on the pitch to carry the Blue flag.
Hayes' team are chasing another Women's Super League title, which remains in their hands, after getting knocked out of the Champions League to Barcelona despite a valiant effort to try to produce a historic result to progress into the final.
On Sunday though, Hayes' team weren't at their best against Manchester United in the Women's FA Cup final as they took to the big stage in front of a sold out crowd at Wembley, the biggest ever domestic crowd in the women's game.
Man United had their chances in the capital but it was Sam Kerr who produced another moment, taking her tally to 10 goals in seven domestic cup finals for Chelsea, to ensure the Blues won their third FA Cup in a row.
The Australian delivered when it mattered once again after she slotted home from close range to finish off Pernille Harder's low cross into the box in the 68th minute.
It was a moment of joy for Hayes, her squad and the whole club after a difficult year. Jonathan Goldstein and Barbara Charone were in attendance for the Wembley showpiece, while Boehly, Eghbali and Co are likely to have watched on from afar.
With the celebrations continuing in the Chelsea dressing room, Hayes carried out her media duties and she had one important message for the fans before concluding.
"It's important, it will bug me if I don't say this – I'm a football fan and I've watched how much this club has suffered this year," admitted the 46-year-old. "We've had ownership changes, the men's team hasn't been brilliant. Chelsea fans this is for you.
"I hope we had a little bit of joy tonight. I hope we gave you something where you can smile about it this year. The whole club, owners included."