New Chelsea signing Enzo Fernandez makes Lionel Messi admission after Argentina World Cup triumph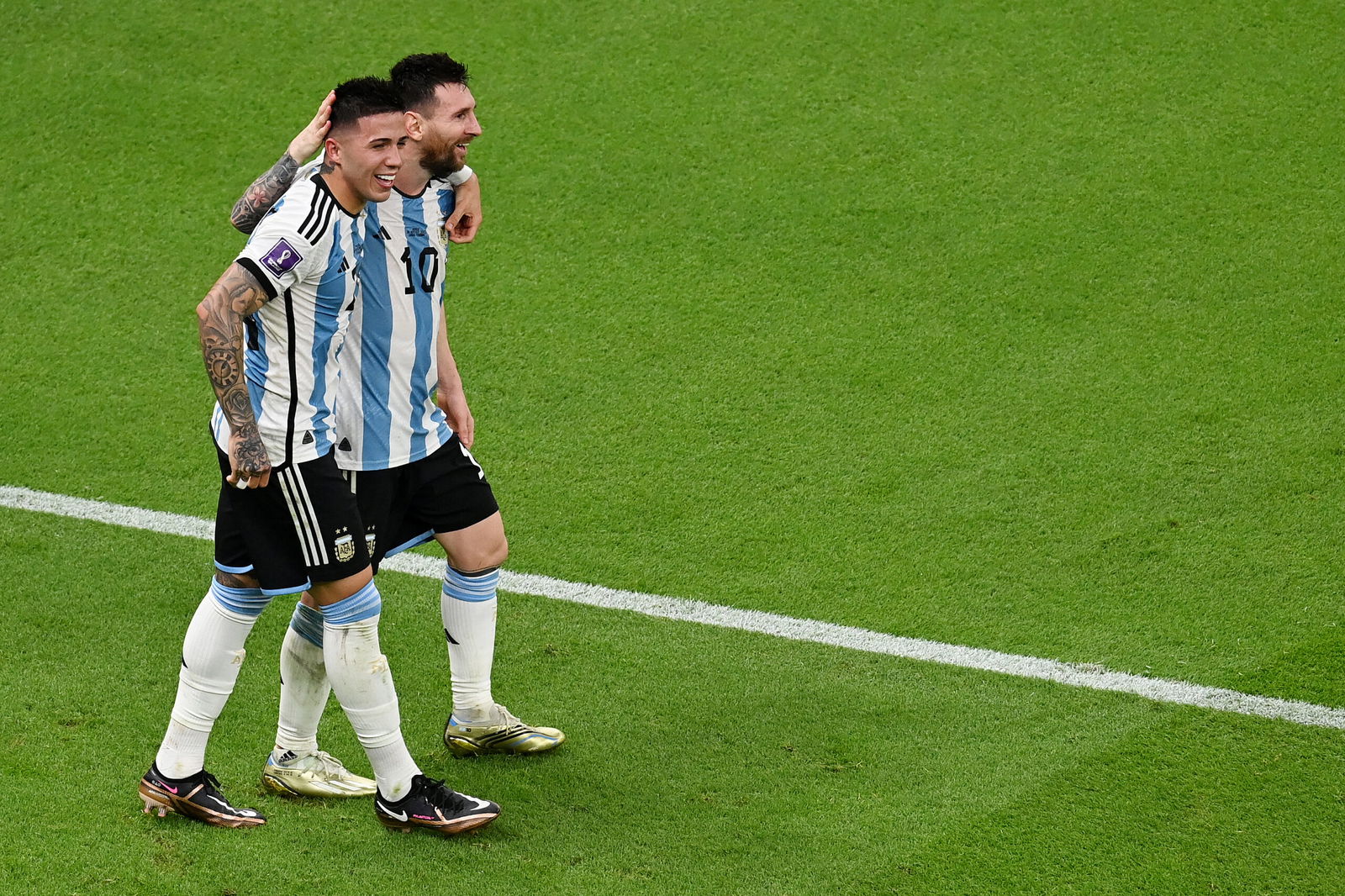 Enzo Fernandez has opened up on his World Cup glory with Argentina and Lionel Messi which saw him earn a January transfer to Chelsea.
It's been quite a year for the 22-year-old. Fernandez has been at three different clubs, won the World Cup and become the most expensive player in the Premier League.
Last summer, Fernandez left River Plate to join Benfica in an £8 million deal and then headed to Qatar for the World Cup with Argentina.
Their Group C opener couldn't have got them off to a worst start, being shocked by Saudi Arabia who came out 2-1 winners. But Fernandez and Co beat Mexico and Poland to ensure they progressed into the knockout stages.
Wins against Australia and the Netherlands saw Argentina move into the semi-finals where they cruised past Croatia with a 3-0 victory to setup a final against France and Kylian Mbappe.
It was some spectacle, some final in Qatar, it didn't disappoint. France came from 2-0 down to score two late goals to take the game to extra time. The magical Lionel Messi slotted away from the penalty spot to bag his brace to restore their lead, but Mbappe was on hand with two minutes left to secure his hat-trick and to take the final game of the tournament to penalties.
And it was Argentina who came out triumphant. A 4-2 win on penalties sealed world glory for Fernandez, Messi and Co. They had done it on the world stage, to put their 2014 final defeat against Germany right.
Messi won Player of the Tournament, while Fernandez won the Young Player of the Tournament. A real breakout star.
Fernandez became a man in demand. Chelsea watched his every move at the World Cup and they spent the whole of January trying to sign him from Benfica. In the final hours of the window, Todd Boehly and Clearlake Capital got their man, spending a club and British record fee of £106.8 million to bring him to Stamford Bridge.
It's been a whirlwind couple of months for the midfielder, who has looked back on his time in Qatar with teammate Messi, who is currently playing his football in France with PSG.
He told the official Chelsea website: "It's true the first game was not what we expected, and we did not get the result we wanted. But in any case, we demonstrated that we were calm, focused and united. Luckily, we became world champions, and that really is priceless.
"I've always said Leo Messi was a player I look up to. I've always tried to learn from him. He's a great person and has given me love and support within the team. I also had to face him when I played for Benfica in the Champions League, as he played for PSG. Right after that, we became team-mates in the Argentina squad.
"He's a great person. Very humble, hard-working. He deserves everything he's achieved in football."
Everything has paid off for Fernandez, who has made four appearances for Chelsea since joining last month, and he's already enjoying his time in the English capital after signing a, very, long-term contract until June 2031 with the Blues.
He added: "I've always longed to play in the Premier League. Chelsea FC has given me the opportunity to play here, and I feel grateful for their trust. I love everything about the club, I'm so happy with my teammates and technical staff. Honestly, ever since I landed here I felt at home. I'll always try to give it my all along with my team-mates to achieve the greatest things for Chelsea.
"The World Cup is like reaching the sky! For me, that's the everlasting glory. But one needs to keep the focus and self-belief.
"I'll always try to have confidence in us, to win everything possible and keep evolving as a player. Clinching titles is the main objective, as well as enjoying football."