What Graham Potter said ahead of Chelsea's Champions League round of 16 clash at Borussia Dortmund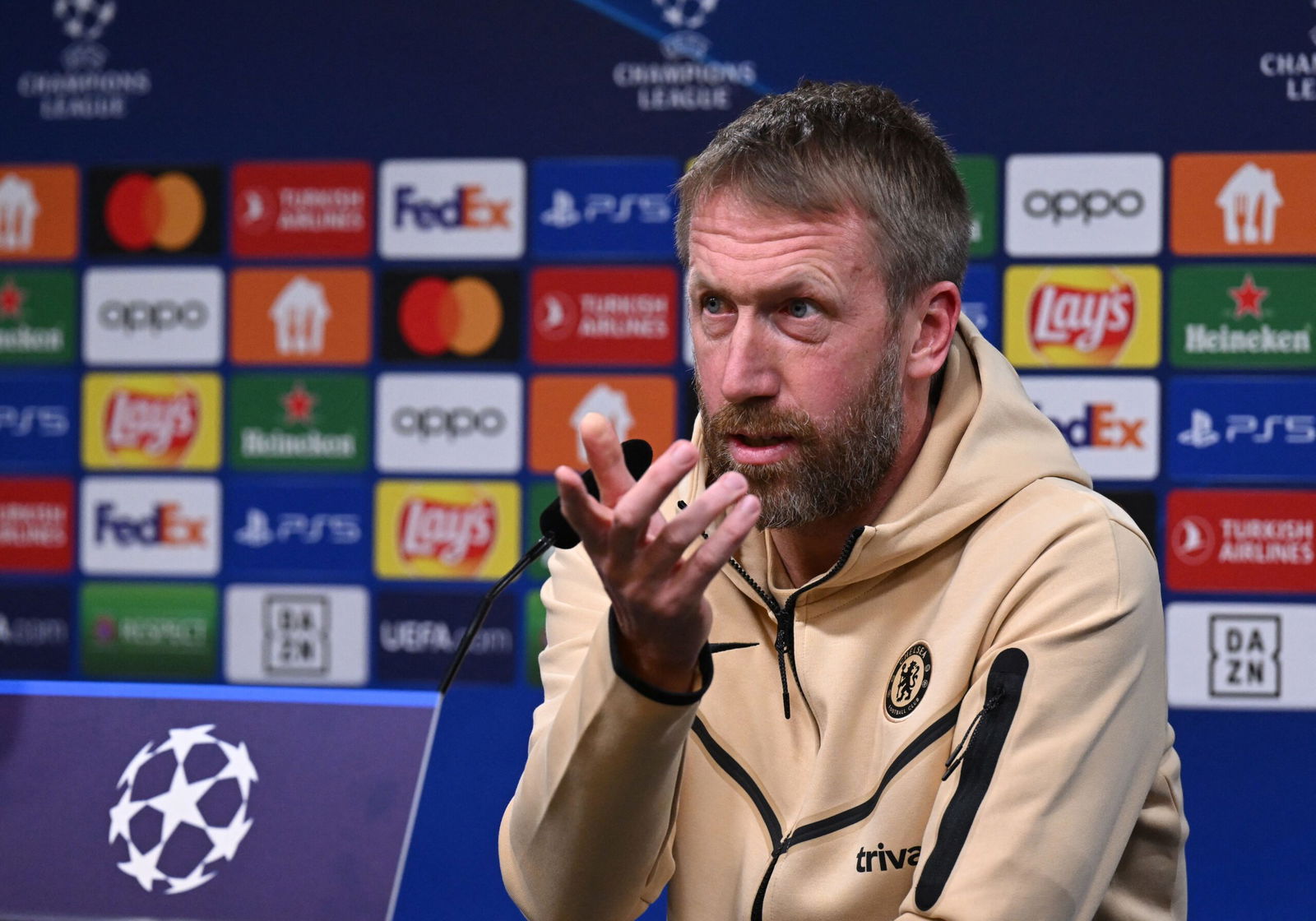 Graham Potter addressed the media ahead of Chelsea's Champions League clash against Borussia Dortmund on Wednesday evening at Signal Iduna Park.
Chelsea have made the trip to Germany to face the Bundesliga giants and are looking to put their poor Premier League form behind them.
They are currently sitting 10th in the league table after a 1-1 draw against West Ham United, but have shown their quality in the Champions League so far this season.
The Blues topped a group containing AC Milan, Dinamo Zagreb and RB Salzburg and have impressed in Europe under Potter.
Dortmund, on the other hand, finished runners up to Manchester City in their group and have lost just once in the competition this season.
They have also been in fine form in the Bundesliga, beating Freiburg 2-0 in the most recent clash as they welcome Chelsea to Germany.
Here's what Chelsea head coach Potter had to say in his pre-match press conference on Tuesday afternoon.
Team news
"They're all in the squad. They (injured players) were getting closer to minutes. We have to build them up. It's good that Denis (Zakaria), Wesley (Fofana) and Mateo (Kovacic) are with the group."
Borussia Dortmund
"It's the knockout stage of the #UCL. The absolute pinnacle. A great test against a fantastic club. 80,000 fans here. A wonderful occasion. We are looking forward to it and understand the challenge. Really excited for it."
Mykhailo Mudryk's social media activity appearing to criticise Marc Cucurella
"There's no problem in terms of anything sinister at all. It's teammates understanding each other, quite a common problem of when to pass, what point and time.
"Against a back five, West Ham make it difficult to access the wide man's feet. It's his third game with us, there's no problem. It's more an understanding challenge."
Edin Terzic
"My first impressions of him were incredibly positive. Really humble guy, very intelligent, articulate, open minded, creative. Everything you want for a coach, he has those attributes.
"Accumulated experience. A nice mix. You can see the quality of work he's done recently, a fantastic run. Organised, attack well and defend well. Good individuals. I'm pleased for him.
"I want to make it difficult for him in the next couple of games then I'll wish him well!"
New players needing to work on understanding
"We've got a squad that we have, a Chelsea squad. A squad that we're excited about but we know there's work we have to do. When you form a new group, if all of us start to work together it takes time.
"I get a good impression on a daily basis. Good spirit, good harmony, pushing each other. A good training session today, working hard to support each other. There's a lot to be happy about."
What makes Potter angry
"Apart from these questions?
"I'm careful not to get into discussions with the media. Of course I get angry I just choose to conduct myself in the right way on the side. "The same media talk about me being more angry then run stories about problems with referees at grass roots football… What's the connection?"
"I have the responsibility to Chelsea and to the game to react in the right way for me, not for anybody else."
Criticism of his response to VAR mistakes and not getting angry enough
"If you think that you can start a coaching career in the 9th tier of English football and get to this point in the Champions League without getting angry or being nice, I suggest you don't know anything about anything."
Pressure at Chelsea after money spent
"There's more pressure and expectation when you spend money. Two plus two is four. We have to win. Thankfully, football doesn't work exactly like that. You need more than resources to win.
"That's the challenge. That's what money doesn't buy you, you have to do your work. My experience is you have to align your resources well, understand the opportunities and strengths you have and how to compete.
"Can Brighton consistently win the Premier League four out of five times? No. Probably not. 95% of leagues are determined by finance. At the same time, you want to be in the 5% bucking the trend by understanding your idea & aligning your resources in a good way.
"It's like warfare. Sometimes guerilla warfare can win, not always the big guns and ammo. But sometimes it helps."
Players absent from Champions League squad
"They trained today with the group. They'll be free tomorrow and watch the game then we are back and train on Thursday. They'll be available for Southampton. Raheem, NG, Pulisic will be working at Cobham too."
Understanding the new players
"Yes and no. You need more than a couple of weeks to get to know somebody properly, especially like Enzo whose English is limited. You get a sense of them as people.
"You watch how they behave and see the qualities. I've been really pleased with how they settled into the group and how the existing players helped them.
"You'll speak to Azpi later, a fantastic professional and person. Understands what is required to be a Chelsea player. He's helped."