Sacking Potter will not fix Chelsea's short-term issues but Nagelsmann availability presents Boehly with lifeline if results don't improve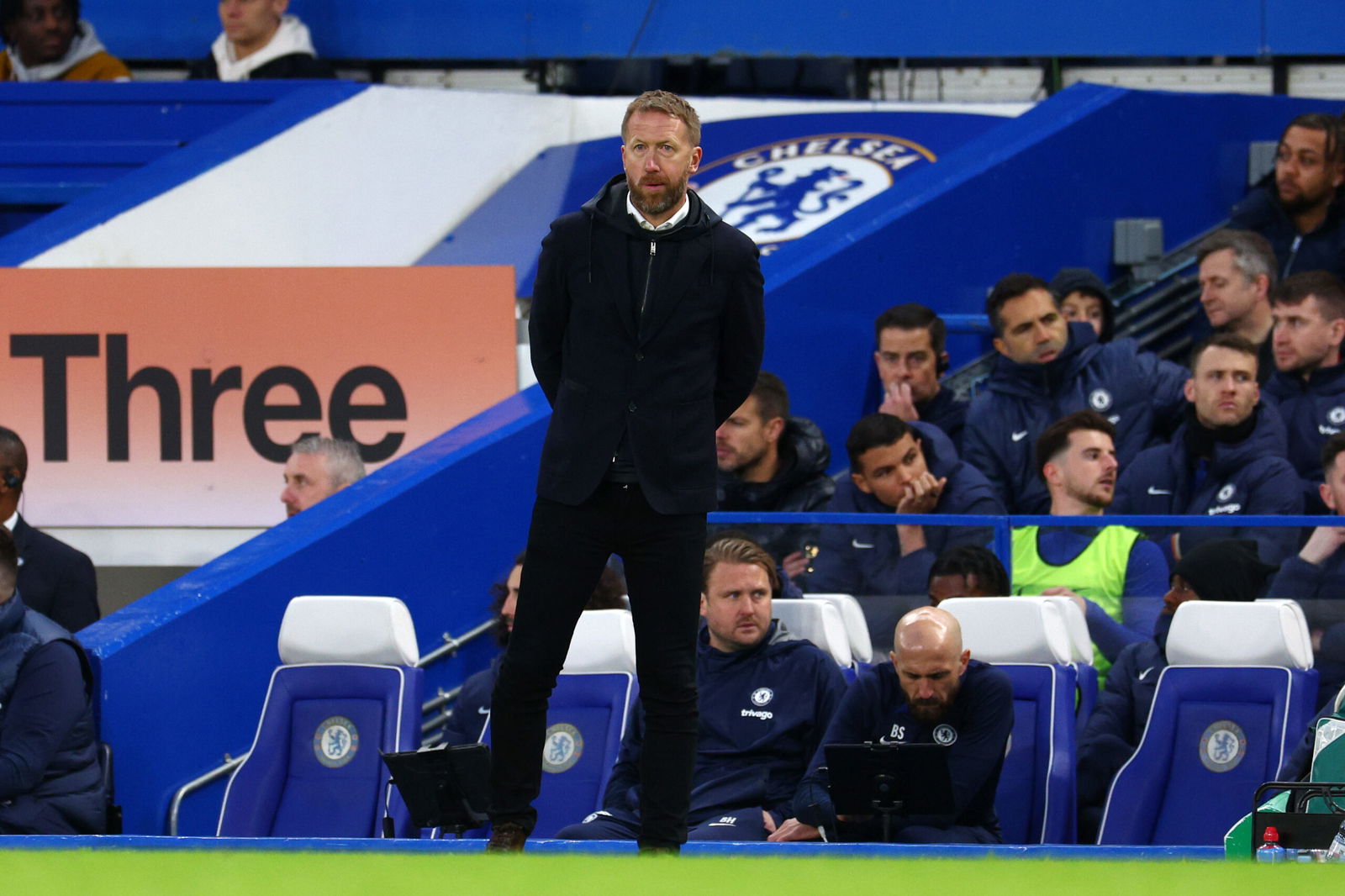 Graham Potter has been under pressure from the moment he stepped into the job at Chelsea, with it proving difficult to win over fans who were on the same page as former boss Thomas Tuchel.
Dismissing the German was never going to be a popular opinion as he reached two domestic cup finals in what was his final full season in charge at Chelsea.
And with Tuchel getting off to a fine start as Bayern Munich manager with a 4-2 win over Borussia Dortmund, the decision to let him leave is frustrating Chelsea fans even more.
But Bayern's decision to get rid of Julian Nagelsmann and pursue Tuchel could have handed Todd Boehly the perfect lifeline if he is to win back the fans at Stamford Bridge, who once again booed Potter's side off the pitch.
The 2-0 loss at home to Aston Villa may have looked be a shocking defeat, but in reality the Villains have one of the best records in the Premier League.
Unai Emery has been a breath of fresh air at Villa Park, joining the side just weeks after Potter moved to Chelsea, and there are arguments that the Spaniard may have even been a better fit in London.
However, despite the criticism of Potter, the short-term issues were bound to affect any manager to take the job.
READ MORE: Graham Potter has 'no complaints' over player performance as Chelsea squad 'understand' his situation after Aston Villa loss
Injuries to key player didn't help Potter and the Blues looked better with N'Golo Kante on against Villa, his first appearance under the head coach – nearly 7 months after he took over, while the likes of Reece James and Ben Chilwell, who has been excellent of late, were also long-term absentees.
Potter walked into the role after Boehly and Co put their faith in the former head coach to lead them in the transfer market, with Pierre-Emerick Aubameyang's signing one of the biggest mistakes from the summer, as is evident by his absence from Potter's squad again.
This squad was added to in the January window with a handful of expensive signings from foreign leagues, which Potter has been tasked with the responsibility of bedding in and making them click.
It was never going to happen overnight, and while results have been unacceptable, Potter is working with 32 players at Cobham on a daily basis and has to narrow this down to 11 to take to the pitch each weekend.
Furthermore, Chelsea have been caught in public contract negotiations with several of their stars which saw Jorginho depart in the January transfer window, a blow to Potter's midfield.
Mason Mount has not looked the same player since his future has been heavily publicised and thrown into doubt, and while Potter has taken him out of the limelight, this can't have helped with Mount's confidence in recent weeks.
READ MORE: Romelu Lukaku could be set for Chelsea return in summer, admits Graham Potter
While Chelsea fans and certain sections of the media call for Potter's head, nobody is going to walk into the job on the verge of a Champions League quarter-final and be able to analyse and give their judgement on all 32 players to select a perfect 11.
To his credit, Potter has kept the harmony at Stamford Bridge and not one player has come out in criticism of his methods, in fact several jump to his defence in the media including James, Kai Havertz and Ruben Loftus-Cheek.
Potter's man management is keeping the players on side for now, and this should be enough for the fans to give him the patience to mould the Chelsea squad into a more manageable group that he can work with, deliver clear tactical instruction and get playing his way.
Once again after defeat, Potter came out and took responsibility for the loss to Villa. But he wasn't the one on the pitch. He didn't take 29 shots and score none. It was his tactics, his ideas and his coaching that put Chelsea in the positions to score.
On another day, Chelsea come away 3-2 victors and pressure is eased on Potter as the Blues remain unbeaten.
READ MORE: Player Ratings: Chelsea 0-2 Aston Villa | Premier League
But that wasn't the case and football is a results driven business and while previously there was a lack of options to replace Potter, the perfect candidate in Nagelsmann may have emerged.
Having worked with Chelsea's technical director Christopher Vivell previously, the 35-year-old presents a brilliant option while aligning with Boehly's vision for the club's future.
The likes of Luis Enrique and Mauricio Pochettino were available, but Nagelsmann has nearly 20 years on the pair.
Pivoting away from Potter and towards a future with Nagelsmann would not abandon Boehly's project, with the young coach already having an excellent reputation in the footballing world.
READ MORE: Thiago Silva's wife sends cryptic message to Graham Potter after Chelsea's defeat to Aston Villa
If Boehly is to pull the plug on his gamble with Potter, Nagelsmann could make an easy transition.
Fabrizio Romano has reported that Chelsea have always appreciated the German as a future top coach and that he is one to watch if Potter leaves his role.
Bayern Munich were preparing for their Champions League quarter-final clash when Nagelsmann was dismissed by the German side and perhaps he could still haunt his former team this season if Chelsea make the move.
But this would no doubt be a risk. Would the German have time to come into a new league, take on a 32-man squad and fix the very same short-term issues that Potter is suffering? Time will tell.