23-year-old makes strong summer Chelsea transfer hint after 'liking' Fabrizio Romano's tweet
Joao Felix has hinted he will support Chelsea's decision to try to sign him on a permanent basis this summer.
The 23-year-old is currently on loan at Chelsea until the end of the season after signing from Atletico Madrid during the January transfer window in a deal worth £9.7 million.
Felix has quickly settled into life in London and already has his first goal for the club, which came against West Ham in the 1-1 draw at the London Stadium last month.
Head coach Graham Potter has been pleased with the Portugal international since his temporary switch to Cobham.
"We're really happy with him – providing he isn't tackling anyone on the halfway line!" said Potter prior to their Champions League win over Borussia Dortmund, a game that Felix predicted the Blues to win.
"His quality is clear. He can receive the ball in tight spaces and makes things happen from an attacking perspective. He's hit the bar twice, scored, and had some other chances. So he has that quality.
"The fact he can play in a few positions is good. We've tended to use him more centrally but he has the ability to play anywhere in the attacking phase of the game."
Felix is set to return to Atletico at the end of the season, but indicated he was happy at Chelsea. However, a decision over his future could hinge on whether or not the Blues qualify for the Champions League next term.
He said: "Yeah, playing the Champions League is always different. It's a competition that everyone wants to play. But now I'm focused on this Champions League, on tomorrow's game. We have a lot of games yet to try to reach the Champions League in the league. It's not over.
"But yeah playing Champions League is an important decision but the future no one knows, so let's see what happens and then we'll see."
"If I want to stay or not, the future nobody knows," added Felix to talk over his future. "I am only focused on tomorrow's (Borussia Dortmund) game. After that, we don't know what will happen. I am here and the club is so big, it's amazing. Everyone behind the club is so good so I am happy to be here."
Fabrizio Romano reported after Chelsea's win over Dortmund that they planned to negotiate with Atletico to keep hold of Felix on a permanent basis.
And following te report, Felix 'liked' the tweet which hints that he would be very open to staying longer term in the capital.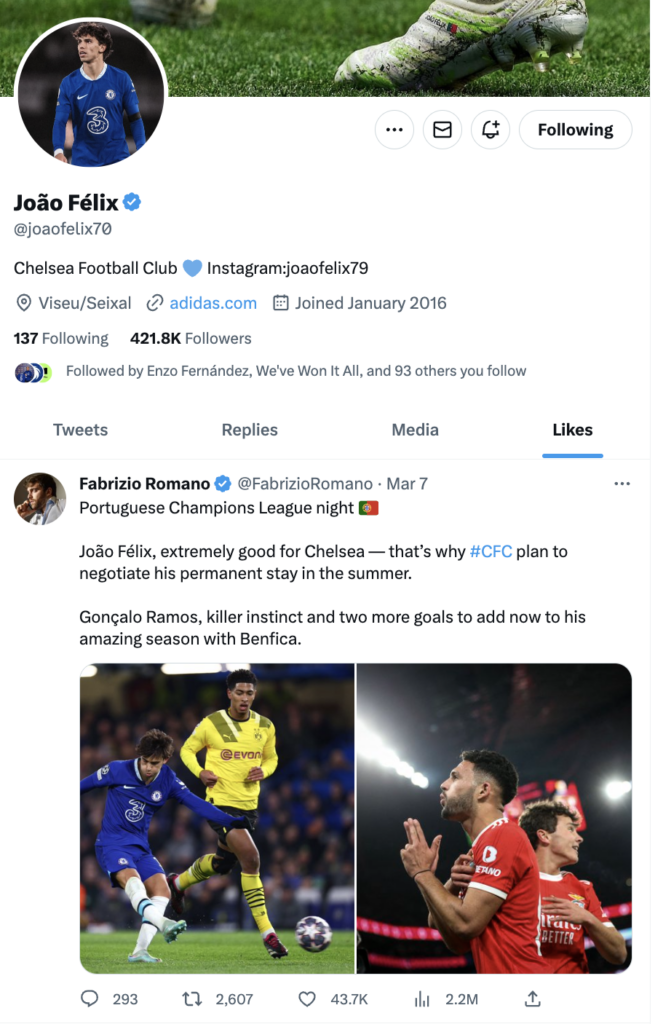 Atletico signed Felix from Benfica for €126 million so if Chelsea want to agree a permanent deal, he won't come cheaply.