Why Thibaut Courtois is 'scared' of facing Chelsea ahead of Champions League quarter-final draw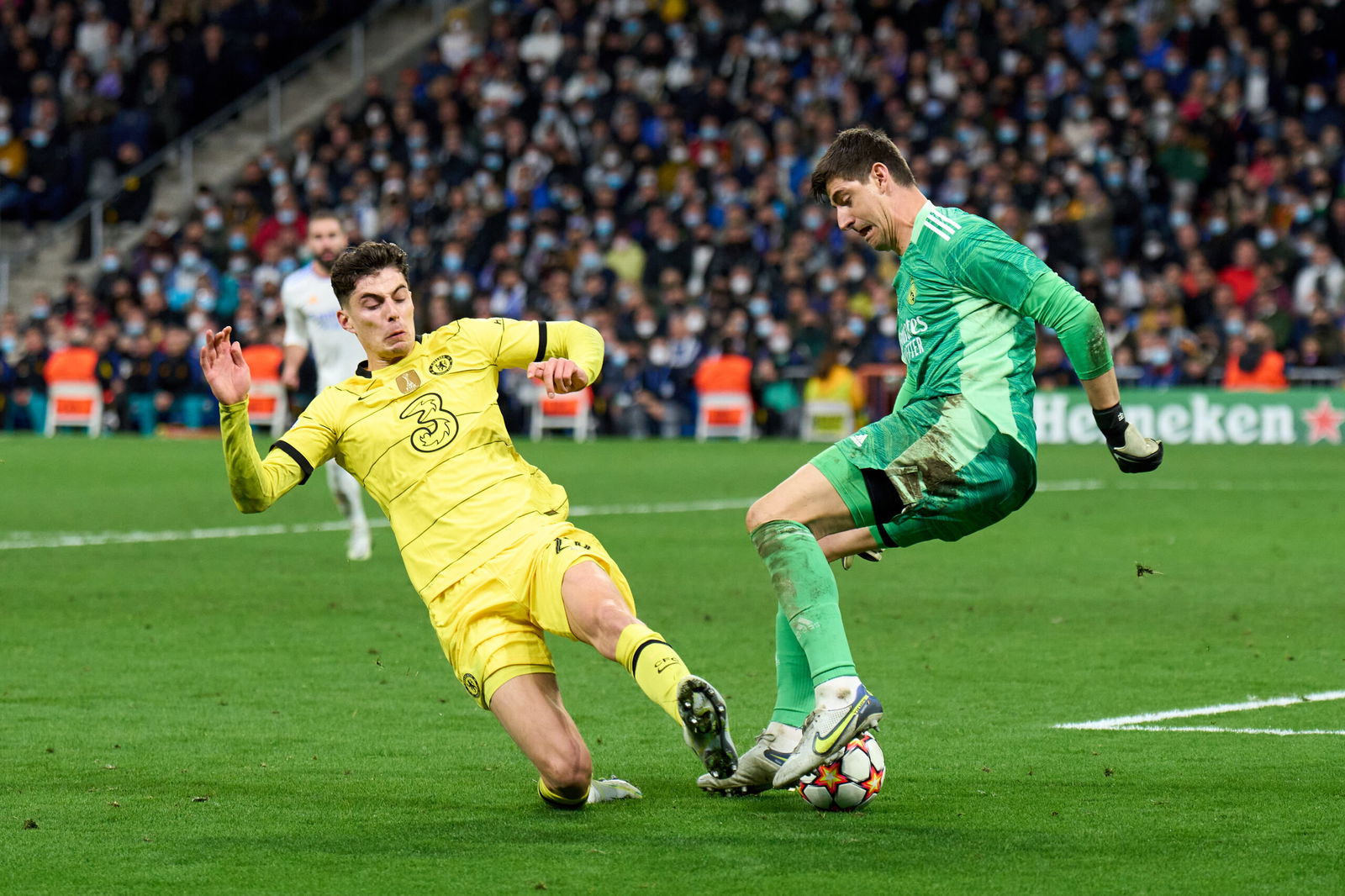 Thibaut Courtois has explained why he wants to avoid Chelsea and Manchester City in the Champions League quarter-finals.
Real Madrid booked their place in the last-eight after a 6-2 aggregate win over Liverpool in the Round of 16. A 5-2 thrashing at Anfield was backed up by a 1-0 victory at the Bernabeu on Wednesday night to ensure they would be involved in Friday's draw.
Carlo Ancelotti's side can draw one of Chelsea, Manchester City, Bayern Munich, Benfica, AC Milan, Inter Milan or Napoli in the quarter-finals.
To win last season's competition, Real had to see off Chelsea and Man City in their route to Paris which saw them overcome Liverpool to win another European Cup.
The Spanish side only narrowly edged past Chelsea last season. Real needed extra time to progress despite a 3-2 defeat on the night in the second leg to win 5-4 on aggregate.
Courtois faced his former club again after leaving for Spain back in 2018 in controversial circumstances. The Belgian said last March prior to the tie: "It will be special. Last year, we lost in the semis and I hope this year will be a victory. This year is going to be different because there will be fans. It will be special and while, at best there will be some whistles, I hope that people remember the beautiful moments.
"We won two titles, an FA Cup. For me, Chelsea is a special team, they helped me be the goalkeeper I am today. They bought me when I was 18 and gave me the opportunity to be at Atletico, to play in the Premier League, to win it. It's an important team and I have many friends there. It's always a pleasure to face them again."
Now the chance arises for Real to potentially face Chelsea again, which would also see Eden Hazard and Ancelotti come up against their old clubs.
However, Courtois doesn't want to come up against the two-time winners, nor against Manchester City who ran riot against RB Leipzig thanks to five goals from Erling Haaland.
"I would like to change a bit," responded Courtois when asked who he would like to face in the quarter-finals.
"Last year we already faced City and Chelsea, let's see if we play other teams this year. Haaland is very good, he is one of the stars of football.
"Last year we made it clear what character we have in the team, with comebacks, we earn respect, we show that Real Madrid is always there."
In response to the 30-year-old's admission, several Chelsea fans believe he is 'scared' of coming up against Graham Potter's side again.
One wrote: "He is scared of us," while another said: "He's terrified."
Chelsea will learn their fate and route to the final on Friday when the draw is made at UEFA's headquarters in Switzerland.
---
READ MORE: When is the UCL quarter-final, semi-final and final draw? Date, time, how to watch, Chelsea's opponents
READ MORE: Chelsea's best and worst routes to Champions League final revealed as Bayern Munich & Man City await draw