Why Chelsea must remain patient with Graham Potter despite concerning form & increasing fan pressure
While the pressure mounts on Graham Potter after a dismal spell at Chelsea, the Blues hierarchy must remain patient with the man that they have chosen to lead the new-look side.
With Chelsea's 1-0 defeat to the Premier League's bottom side, Southampton, the Blues were booed off at both half-time and full-time after yet another poor result on Saturday afternoon.
Potter's side are sitting 10th in the table and know that they must beat Borussia Dortmund in their last-16 second leg next month following a 1-0 defeat in Germany.
The 47-year-old admitted that the defeat to the Saints was a step back for his side. He said: "I think it was, certainly in the first half, it was a below-par performance. Returning from the Champions League and we had to make some changes, so you lose a bit of fluidity and cohesion.
"Southampton set up with a plan, an idea. They mixed the game well with a big target man but our performance wasn't what we wanted in the first half and I take as much responsibility as anybody in that.
"I thought the response second half was good and I thought we deserved a goal, we created enough chances to score. But when you don't, then obviously it's difficult to win matches."
This has led to much criticism from Potter in the media, with it being suggested that Todd Boehly and Clearlake Capital should cut their losses and get rid of their man of whom they handed a long-term contract too back in September.
"After a 1-0 defeat at home, any criticism you get is understandable," responded Potter on the fans' frustration. "I think we've had a tough period and I think we've had lots of challenges in terms of integrating young players into the Premier League. While results don't go your way it can be tough, that is how it is.
"I'm sure there will be people out there that think I'm the problem, absolutely. I don't think they're right but I'm not arrogant enough to say their opinion isn't worth articulating.
"My job is to help the team, keep working through a team period, we've had to make some changes today and the truth is we took a step back in our performance in the first half."
Despite the poor run of form, Chelsea should stick by their man rather than continue old traditions of hiring and firing until things improve. That's exactly what they are doing as of now. The club are continuing to show their support and backing, remaining unmoved over their position on the head coach.
Potter's start to life at Chelsea has not been pretty, with it clear that things must change, and soon, if he is to keep any faith and his job for the foreseeable.
However, Potter was hired as part of a long-term strategy, and Chelsea are still in the infancy of the new owners' project. With such a high turnover in terms of players, it is not easy for Potter to find his best side but this is no excuse. After all, they have won just two of their last 17 games in all competitions.
The head coach's success at Brighton & Hove Albion didn't come instantly either as Potter built a squad, which he left in the Champions League places in the Premier League – no small feat.
Things didn't click overnight during his time at the Seagulls but once Potter got the players he wanted and implemented his desired system, they began to thrive under him.
He was criticised during the opening months of his spell on the south coast for severely underperforming in terms of their expected goals, and this is no different to his time at Chelsea.
Potter's Chelsea side have begun to not only improve on their xG, but they have made strides in terms of defensive ability too.
In seven of his 25 games as head coach at Stamford Bridge, Potter's side have had a better xG than their opponents.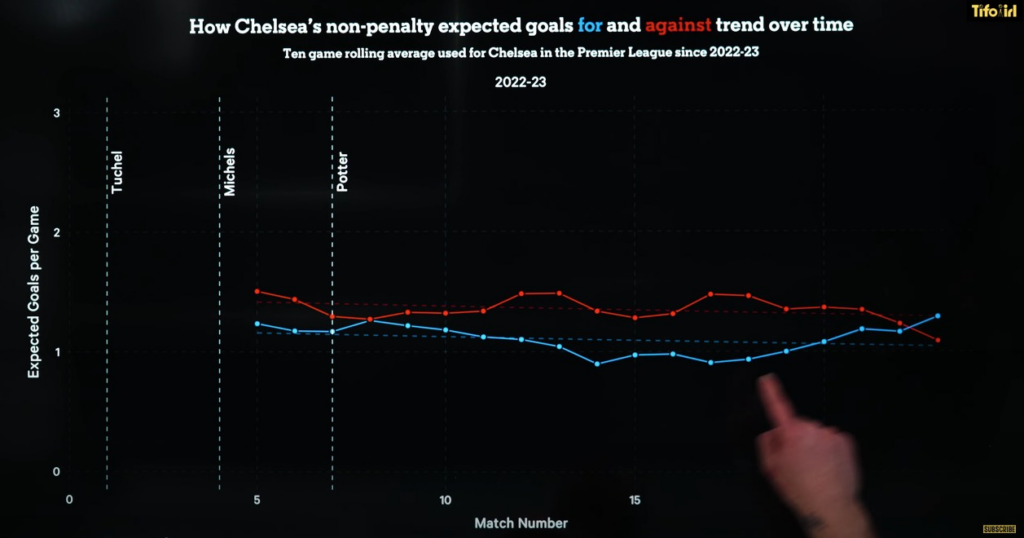 It is now time for the Blues to make good on these underlying statistics and have this reflect on the scoreline during their matches. At Brighton, it took time to click, and when it did it was brilliant.
Potter has even admitted this himself, stating: "If you look back at my first six months at Brighton, it looked nothing like my last six months at Brighton. It needed time."
Chelsea must remain patient, and that means until the end of the season and giving Potter the time to implement his ideas further in the summer which will see him have his first pre-season in west London.
Thing won't happen overnight at Chelsea, and while it's up to Potter to improve on Chelsea's poor season which has been unacceptable, the long-term potential under the head coach is worth the short-term struggles. But, ultimately, there must be progress which is evident, much more than is currently on display.
His first six months at Chelsea will look nothing like his last, but that will only happen as long as he is given the time to rebuild and develop the team into a team he desires.
---
READ MORE: Inside the Chelsea dressing room room as Blues slammed for 'not being good enough'